We Train Elite Players
Welcome To
Canadian Elite Table Tennis Training Centre

News (Archive)
---
March 2020 Latest News:

To say that the Feb 29, 2020 U11 & U13 tournaments were tremendous successes for Elite TTC and its juniors may be a bit of an understatement.

To start off, registrations for the tournaments were overwhelming. It caught the organizers (OTTA & Elite TTC) by surprise, with an unheard of 36 juniors registering for the events.

Then, Elite TTC juniors proceeded to win an unprecedented 9 medals out of 12 from the events.

That included Gold, Silver and Bronze for both U11 Girls and U11 Boys groups:

Girls Gold - Julia Lin; Silver - Adele Zhang; Bronze - Ruoyan Yang

Boys Gold - Miles Easton; Silver - Andrew Zeng; Bronze - Leo Lin

Additionally, Derek Shen won Gold and Frederick Zhang won Silver of the U13 Boys; Jessie Xu won U13 Girls Silver.

Once again, our juniors' exceptional podium finishes further establishes them as the force to be reckoned with and demonstrates why Elite TTC is the premier training centre in the GTA!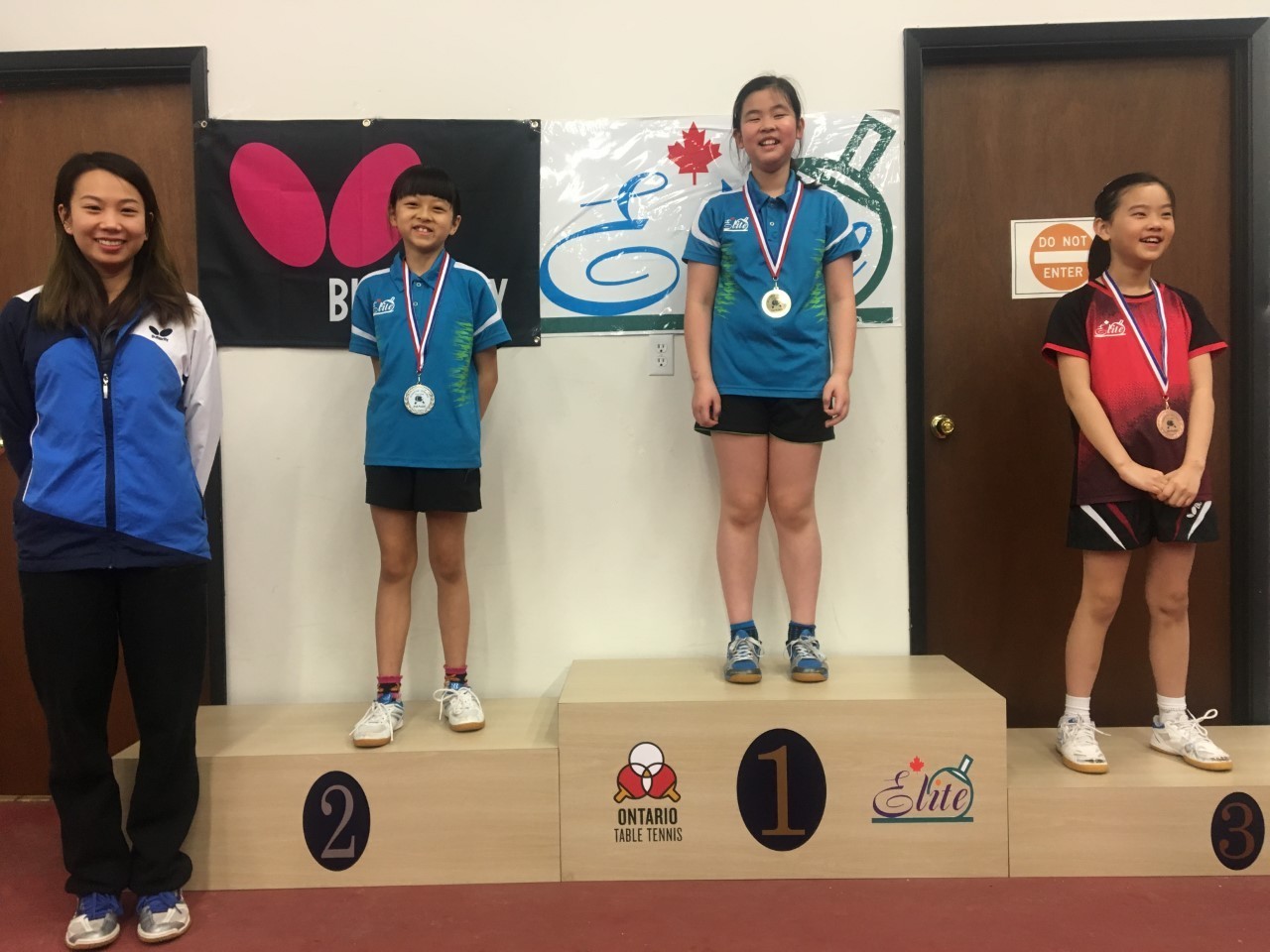 Latest News - Dec 22nd, 2019

Double Silver and a Bronze at 2019 US Open

2019 has been quite an eventful and rewarding year for many of our players, especially the juniors, in winning many championships and medals.

The US Open, the last major table tennis tournament in North America for 2019, took place during Dec 17-21 at Fort Worth, Texas.

Two of our juniors came home with silver medals and another one with a bronze amidst many top international players from USA, Canada, China, Japan, Peru, Puerto Rico, and various other regions and countries.

10 year old Frederick Zhang competed in the U10 singles against 29 other competitors. Young Frederick played extremely well and with courage throughout all the matches and captured the silver medal in the final.

Another top player from Elite TTC - David Xu - put out excellent performances to win a U18 Team silver.

Jordan Grewal also made a name for himself by winning a Cadet Boys Doubles bronze.

We would like to congratulate these youngsters in demonstrating their skills, dedication, and hard training in order to reach the podium among elite competitors. They are role models to our players, and we wish them many more successes in their young athletic lives!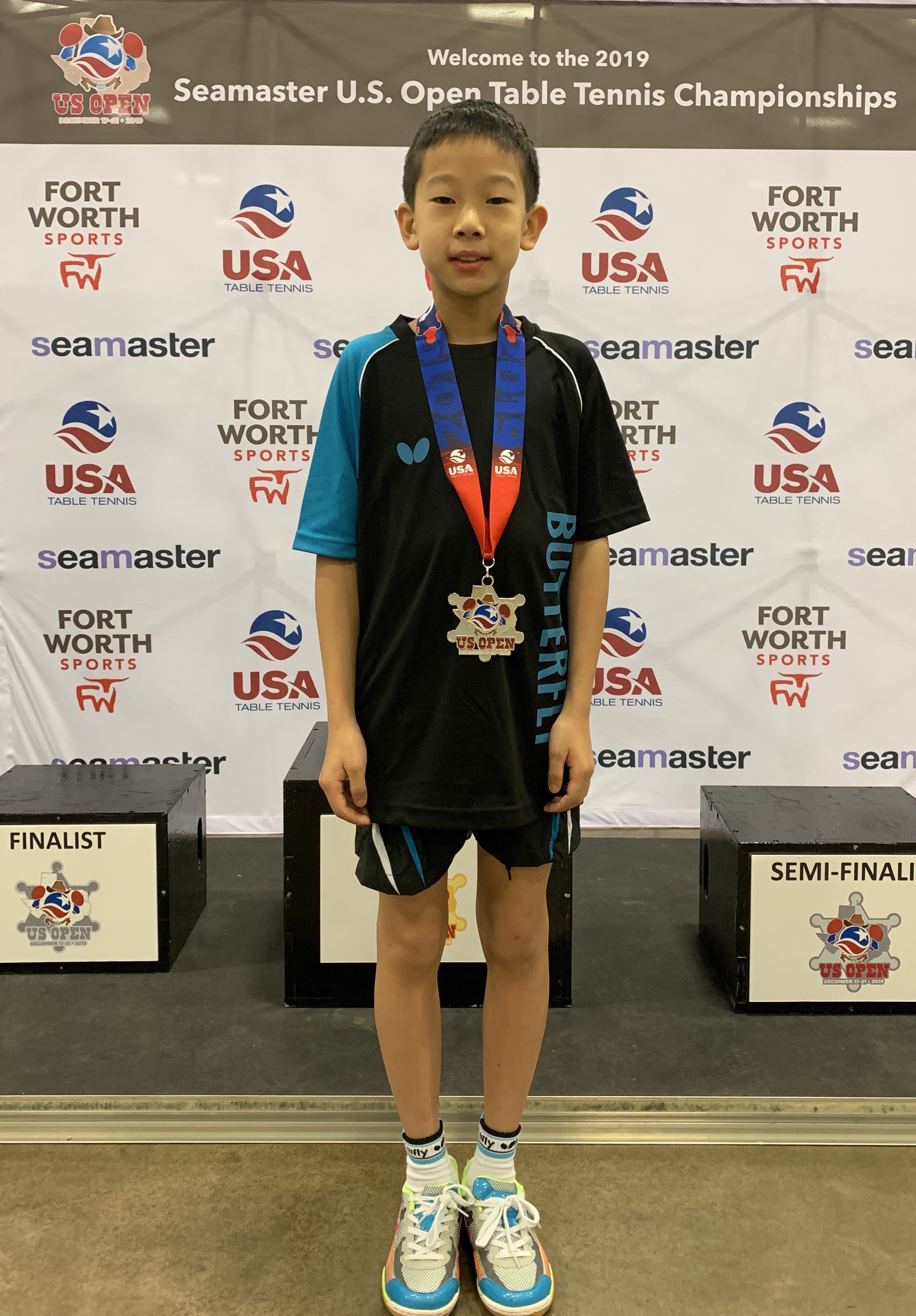 Latest News - Nov 2019

Elite TTC Teams Made History Again

The 2019 Panda Cup drew to a close on Sunday, Nov 3. Close to a thousand players competed in this year's event at the Markham PanAm Centre. That record number of players made it the most attended table tennis tournament in Canada.

What's even more eye-catching this year is the addition of the Junior & Cadets Panda Cup. Teams were made up of players aged 10, 11, 13 and 15. Elite TTC registered two teams in this category. Our two teams played superbly throughout the tournament. By beating all the other city/club teams by a wide margin, they garnered both the Gold and Silver medals.

Congratulations to our two teams of young, talented players for their joint efforts in winning the very first J & C Panda Cup Gold and Silver Medals!

You should all be very proud of your excellent achievements.

Champion Elite Junior A:

Tom Yang; Michelle Wang; Miles Easton; Andrew Zeng; Sunny Yang

Runner-up Elite Junior B:

Matthieu Thoi; Eliot Mudry Danisch; Nilaksh Nagpure; Alvin Shan; Sienna Calderaro; Julia Lin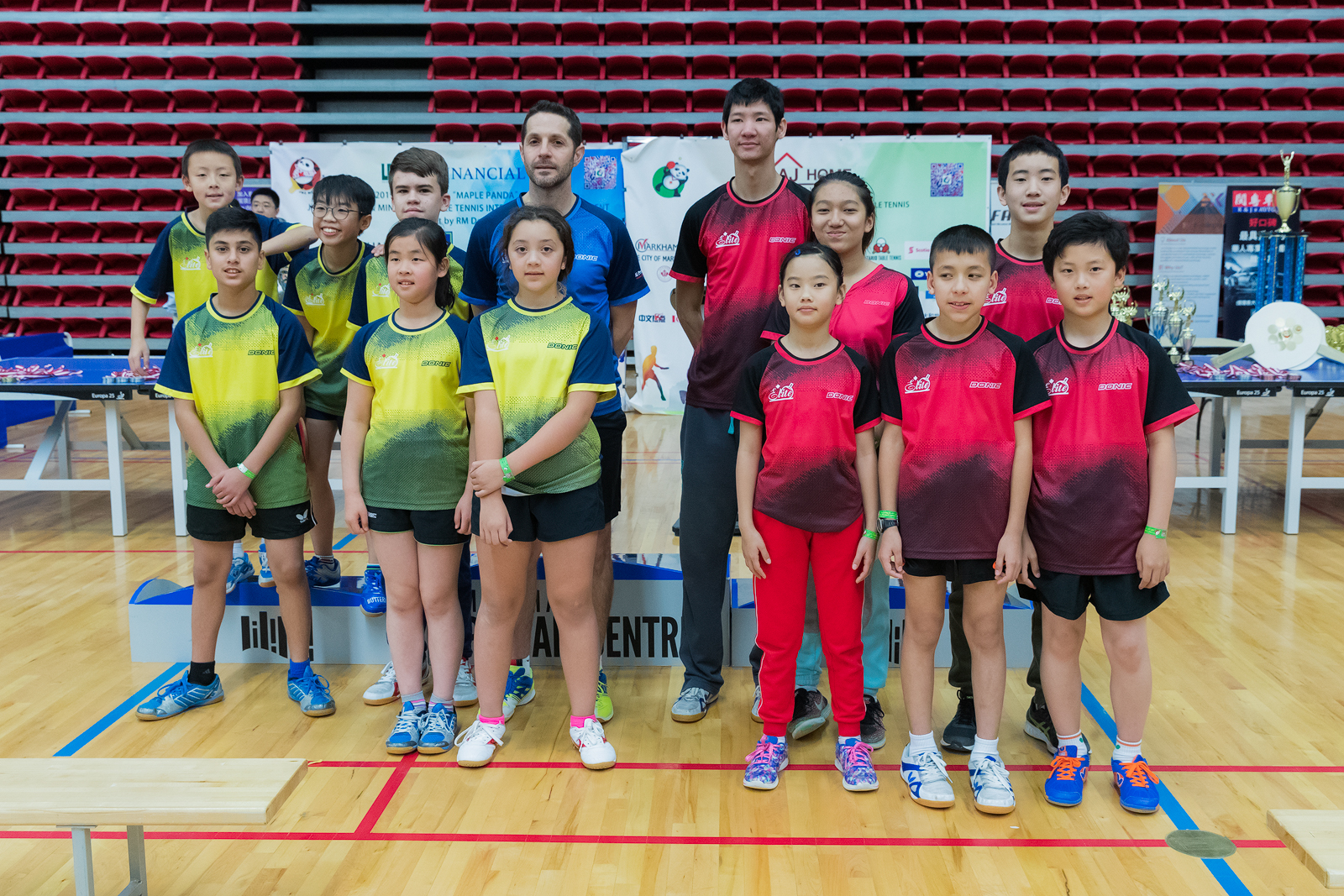 Latest News - Oct 9, 2019

A Return to the International Table Tennis Stage

Anqi Luo is returning to the international table tennis stage after a 4 year hiatus, but this time in a totally different role. As a player, Anqi was a Commonwealth Games and PanAm Games medal winner.

Earlier this summer, Table Tennis Canada High Performance voted all in favour, and based on the request of North American Table Tennis Association, they appointed Anqi to lead the North American Cadet Girls Team to compete in the 2019 ITTF World Cadet Challenge.

This is the most important ITTF world class tournament for U15 players that will be held in Poland starting Oct 23, 2019.

"I still remember vividly that only a few years ago I was in this exact tournament where I won the Girls Double Silver Medal," Angi recalled, and she added, "How times fly. Now this year, I have the great honour to lead the North American Girls team. I'll do my very best to meet this new challenge!"

Congratulations to the Elite TTC coaching team for garnering such accolades. Keep up the great effort!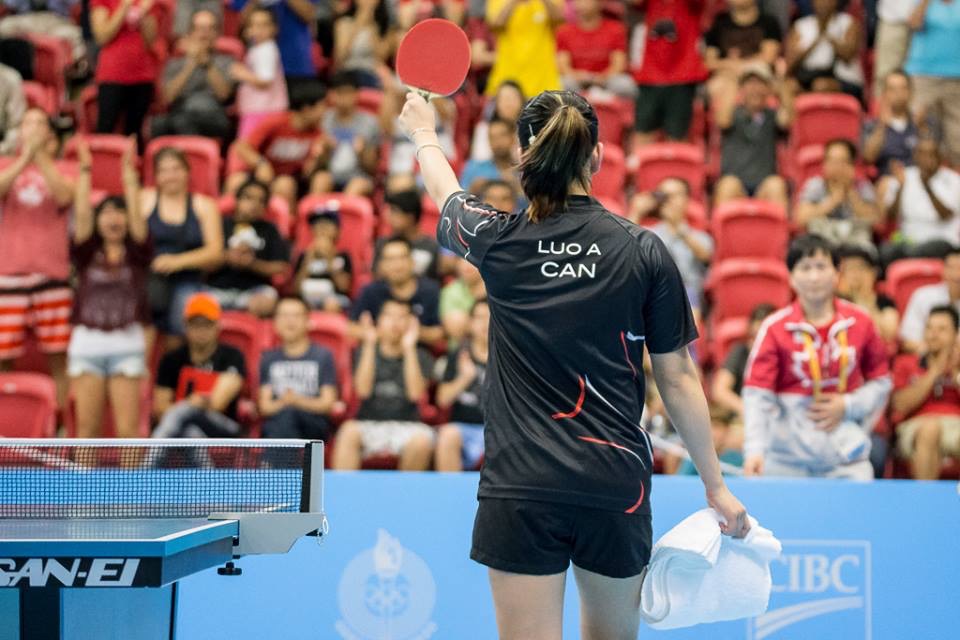 Latest News - July 7, 2019

Elite Juniors shine at the 2019 Canadian Junior Championship

Once again Elite juniors reaffirm their elite status in the Canadian table tennis circle at the 2019 Canadian Jr Championship. Many made multiple podium appearances at the event that took place at Summerside, PEI during the July 5 -7 weekend.

Elite TTC's dynamic duo of Michelle Wang & Jessie Xu won the U13 Girls Doubles Gold.
Here is the list of our fabulous juniors that made podium appearances.


Kevin Guo: U13 Boys Team Gold; U13 Boys Singles Silver; U13 Mixed Doubles Silver

Glacier Sung: U13 Boys Doubles Gold; U15 Boys Team Silver; U13 Mixed Doubles Bronze

Michelle Wang: U13 Girls Team Gold; U13 Girls Doubles Gold

Jessie Xu: U13 Girls Doubles Gold; U13 Girls Singles Bronze; U15 Girls Team Bronze; U13 Mixed Doubles Bronze

Zhicheng Yang: U15 Boys Team Silver

Tina Liu: U15 Girls Team Bronze

David Xu: U18 Boys Team Silver; U18 Boys Doubles Silver


Congratulations to all our medals winners, wonderful job!

We will work hard together towards next year's championship, until then ..........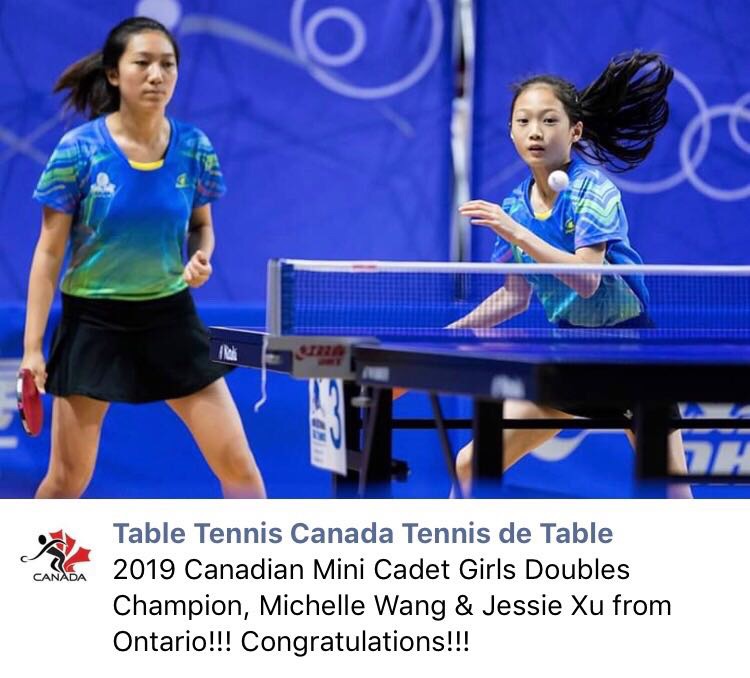 Latest News – April 14, 2019 Ontario Championship

Elite TTC's Youth Brigade

Following 2018 Elite TTC girls' U13 Gold, Silver, and Bronze medals history making performance, this year is Elite boys' turn to shine brightly.

Frederick Zhang, Alvin Shan and Miles Easton owned the podium of the U11 group by winning Gold, Silver and Bronze. Elite TTC once again created another unsurpassed phenomenon!
In the U1600 group, Elite's young male players Michael Ye, Tom Yang and Hugo Quach also excelled by winning Gold, Silver and Bronze.

Kevin Guo, won two medals, U15 Boy's Gold and U13 Boy's Silver.
Glacier Sung won two bronze medals for the U13 and U15.
David Xu won an Open Men Bronze.

On the girls' side, Angela Cui won U15 Girl's Gold.
Michelle Wang won U13 Girl's Bronze as well as U800 Gold.
Joy Xu won U18 Girl's Silver.

Our adult players also performed quite well.
Kevin Shen won Gold in the 40-year-old group.
Taher Khairulla won Bronze in the 55-year-old group.

Elite TTC was the top winning club by a wide margin at this year's Ontario Championship, by sweeping a record breaking number of 17 medals!
Congratulations to all the winning Elite TTC players as well as all our high performance coaches. Job well done and we are all so very proud of you!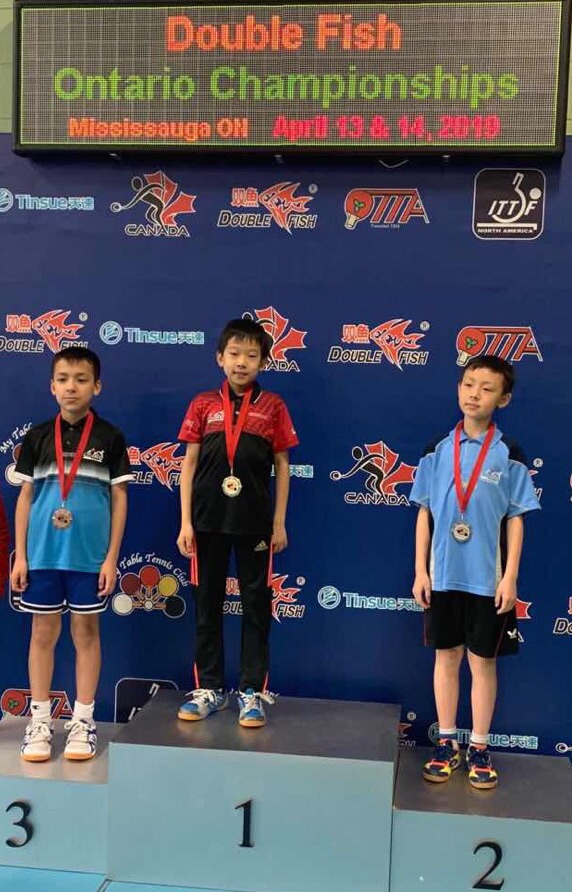 Latest News – April 9, 2019

Another Rising Star

David Xu, a star player that's been training at Elite TTC for a number of years, had just achieved a major milestone.

A tremendous breakthrough on the international stage, David Xu with his partner had just won a Junior Boys Doubles Bronze medal at the March 2019 ITTF Chile Junior and Cadet Open at Santiago.

To David, this wonderful achievement is a well deserved reward for his many years of hard work, training, self-discipline, and dedication.

An amazing feat for sure and with many more to come!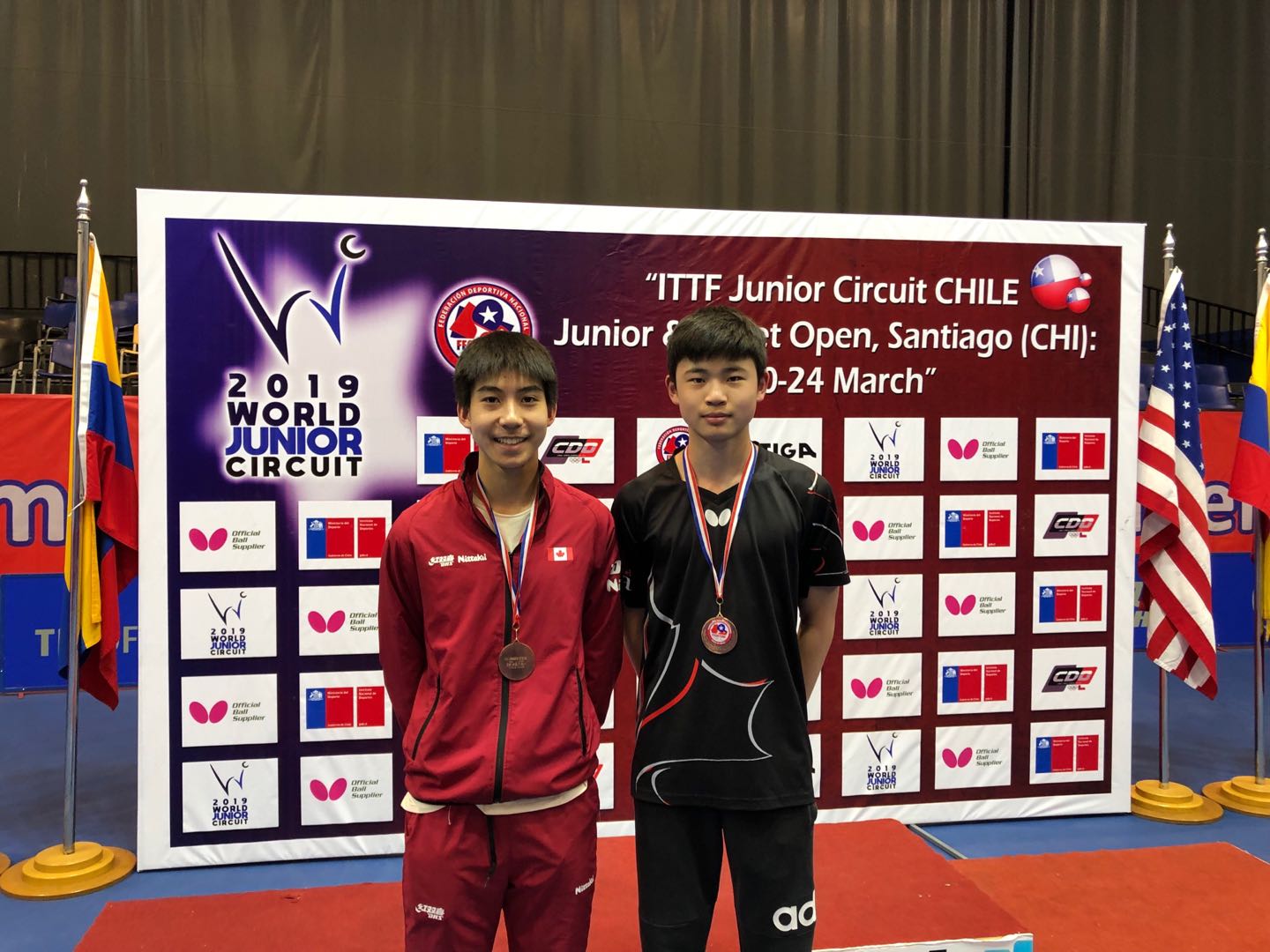 Latest News – Jan 18, 2019

What a Way to Start 2019

Several Elite TTC juniors competed over the weekend of Jan 12 at the Canada Cup #3.

The Canada Hopes (U12) was a main event and competition was quite fierce. Still, our juniors managed to garner 3 medals.

Jessie Xu won a Girls Silver; Derek Shen a Boys Silver, and the youngest competitor Frederick Zhang at 9 years old won a Bronze. Gold medals were won by USA players.

At the U15 grouping, both Kevin Guo (12yrs old) and Jessie Xu (10yrs old) from Elite fought valiant battles and came away with Bronze medals from their respective Boys and Girls group.


Congratulations to all our junior competitors!

All of us are very impressed with the performances and great showing of our crop of young athletes. They are demonstrating great skills beyond their age to challenge much older players.

We look forward to the continued blossoming of these youngsters into star players with a bright athletic future.

Keep practicing and keep playing, many rewards are awaiting!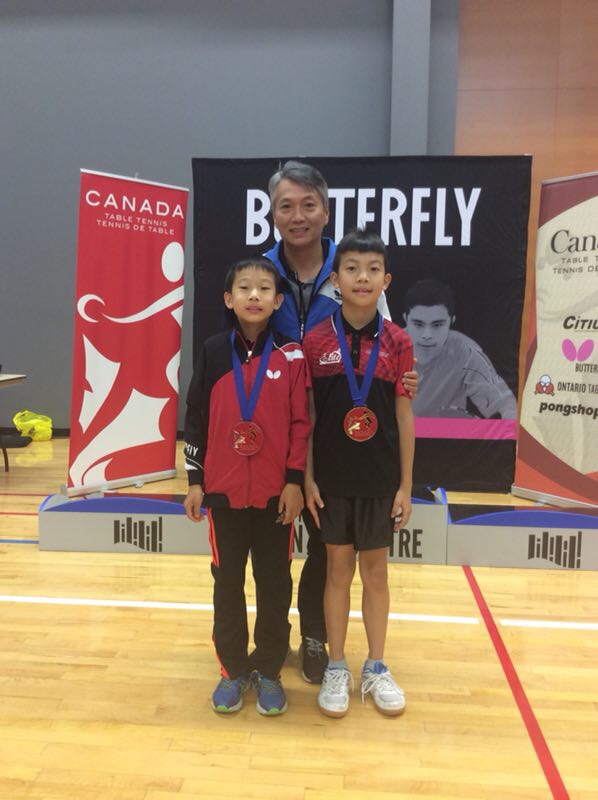 Latest News – July 5, 2018

19th World Veteran Championship and a Very Touching Real Life Story

Last month, Elite TTC members Betty Zareba, Willus Dong, David Wu and Tamara Crawford traveled to Las Vegas to compete in the 19th WVC during June 18 – 24. This very popular event takes place every 2 years, with over 4000 participants from around the world.

These Elite TTC senior members, just like our younger crop of top players, did quite well at this international event.

Betty made the top 32 of Over 55 Women's Singles and winning the Over 55 Women's Doubles Consolation. Tamara won the Over 55 Women's Doubles Consolation Bronze and Willus reached top 64 of Over 40 Men.

Tamara Crawford's sharing of her own story of personal tragedies and recovery in the past decade made it to the headline news at the WVC as well as USATT.

We want to commend Tamara for her courage and determination in dealing with all the adversities these past number of years. Stay strong and positive Tamara, you made lots of friends at Elite TTC, and we are very proud of you.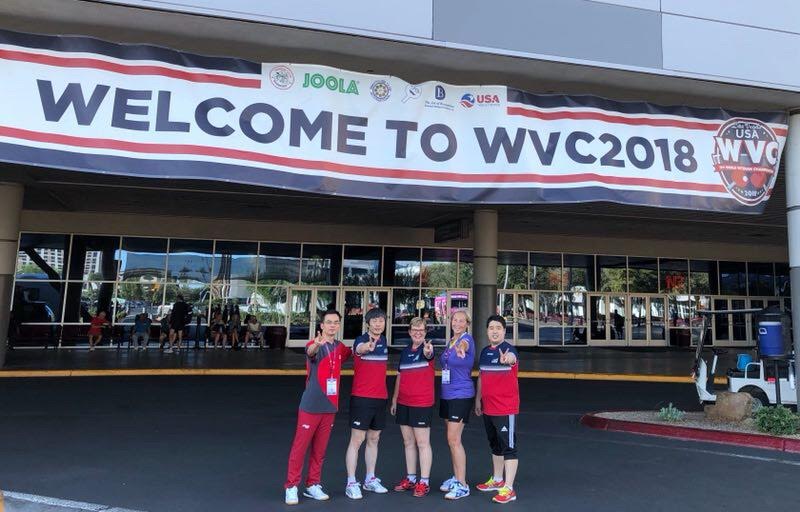 Latest News – Ontario Championship Apr 7 – 8, 2018

We made history!

At this year's Ontario Championship, the trio of Elite TTC young stars: Jessie Xu (Gold), Angela Cui (Silver) and Michelle Wang (Bronze) made history by owning the podium for U13 Girls from the same club. Jessie also won U11G Gold.

Our boys' trio were not to be outdone. David Xu won U15 Boys Gold, Derek Shen U11 Boys Gold and the tournament's youngest competitor Frederick Zhang continues to make waves by winning U11 Boys Silver. Glacier Sung won U13 Boys Silver, Kevin Guo U13 Bronze and William Shen U15 Boys Bronze.

For the last few years, our players have done extremely well at Ontario Championship. Although competition was quite fierce at this year's championship, our group of talented and determined players exhibited their top forms and skills that were well trained by our team of excellent coaches. We all can't wait to see them shine even brighter at many more Canadian and international tournaments.

We also want to acknowledge the efforts of these players' parents for their dedication and sacrifices in supporting their children to achieve such high level of success.

Congratulations to all involved. Keep up the hard work and winning ways!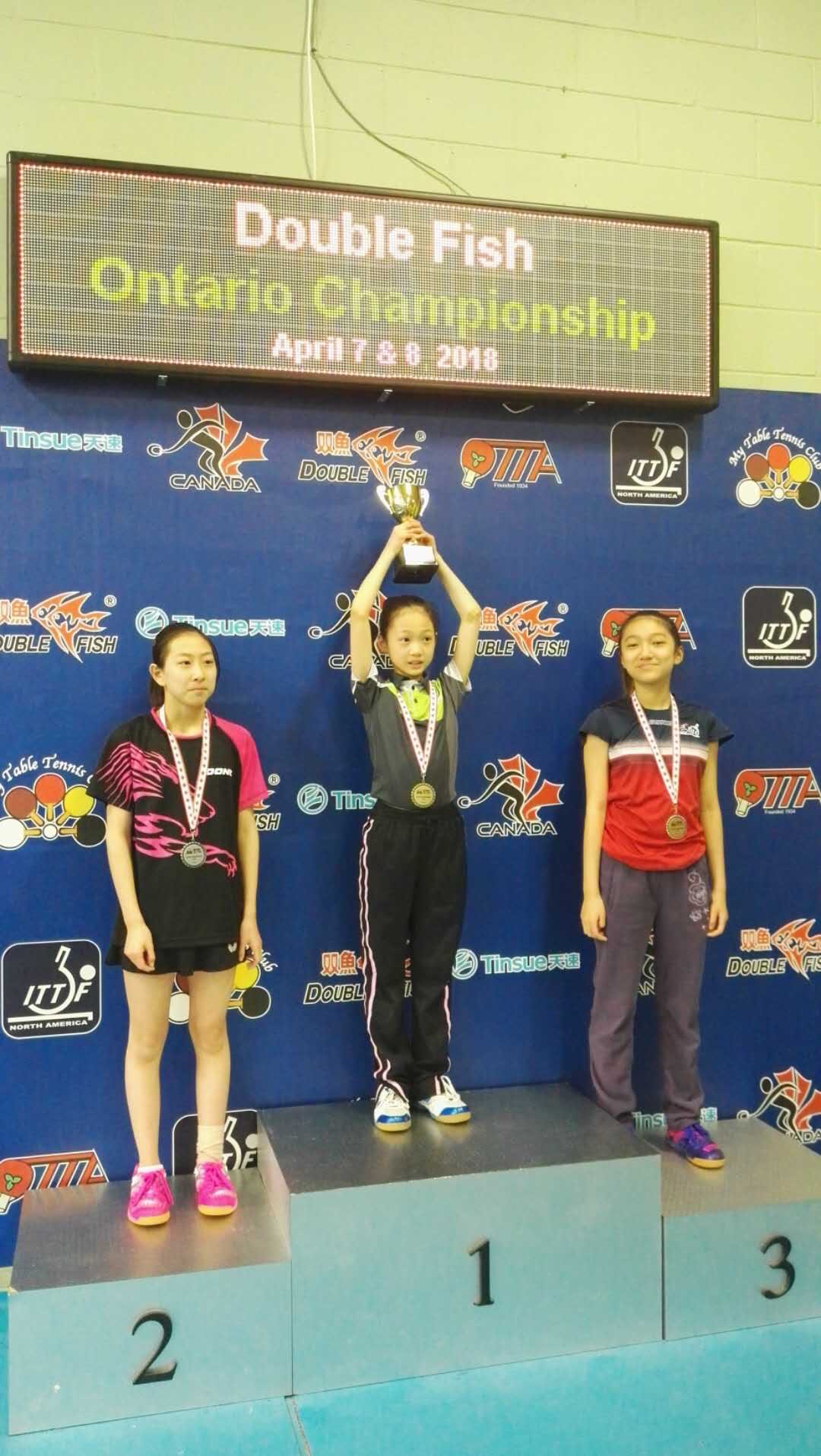 Latest News - 2018 March 10-11 Canada Hopes Challenge – Markham Pan Am Center

After 2 days of Canada's top (under 12) juniors, two from Elite TTC came away with Silver medals.

Kevin Guo (seeded 5) won a boy's Silver with an 8 to 1 record, including beating the no. 1 seed. Amazing performance.

Jessie Xu (youngest female) was extremely competitive and outstanding through all her matches, earned herself a girl's Silver medal.

Couple of other young Elite TTC players, Michelle Wang and Glacier Sung, also impressed everyone with their 4th place finish. Michelle only started training 1 ½ years ago at Elite. Whereas Glacier's 6 – 3 record was quite respectable.

These youngsters will be representing Canada later in the 2018 N. America Hopes Finals. It will be an excellent experience and we wish them the very best.

We also want to express our sincere appreciation to our coaching team for doing an outstanding job in training our players as well as during the tournaments. Well Done!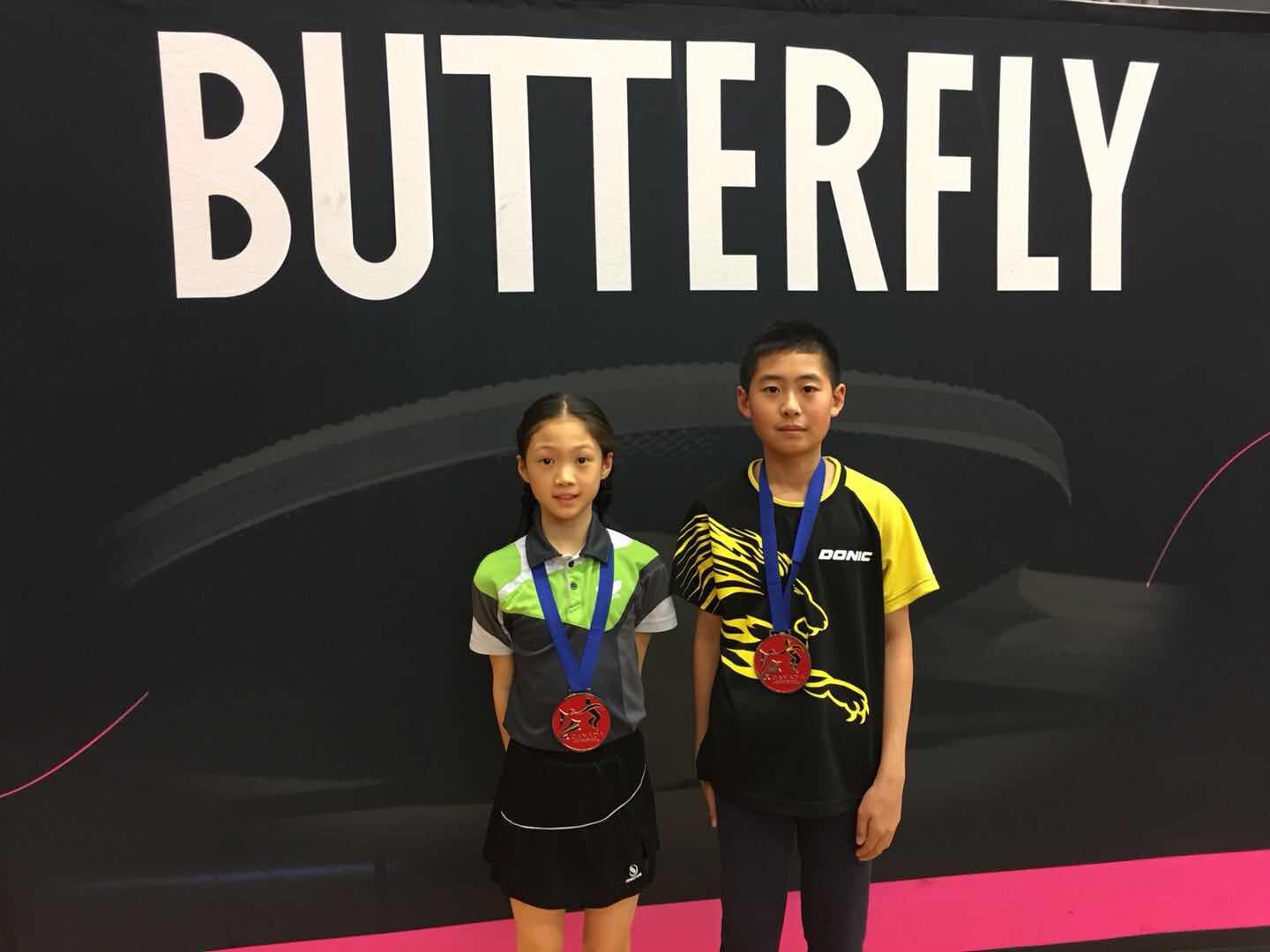 2017 Canada East Hopes, July 9

This Singles tournament was for U11 and U13 girls and boys.

Elite TTC juniors continued their triumphant ways, won 3 of the 4 available gold medals, as well as a Silver and a Bronze.

Jessie Xu: U13 and U11 Girls Gold Medal

Kevin Guo: U11 Boys Gold Medal

William Zhou: U13 Boys Silver Medal

Leesha Pilla: U13 Girls Bronze Medal

Such an amazing feat. Well done and congratulations!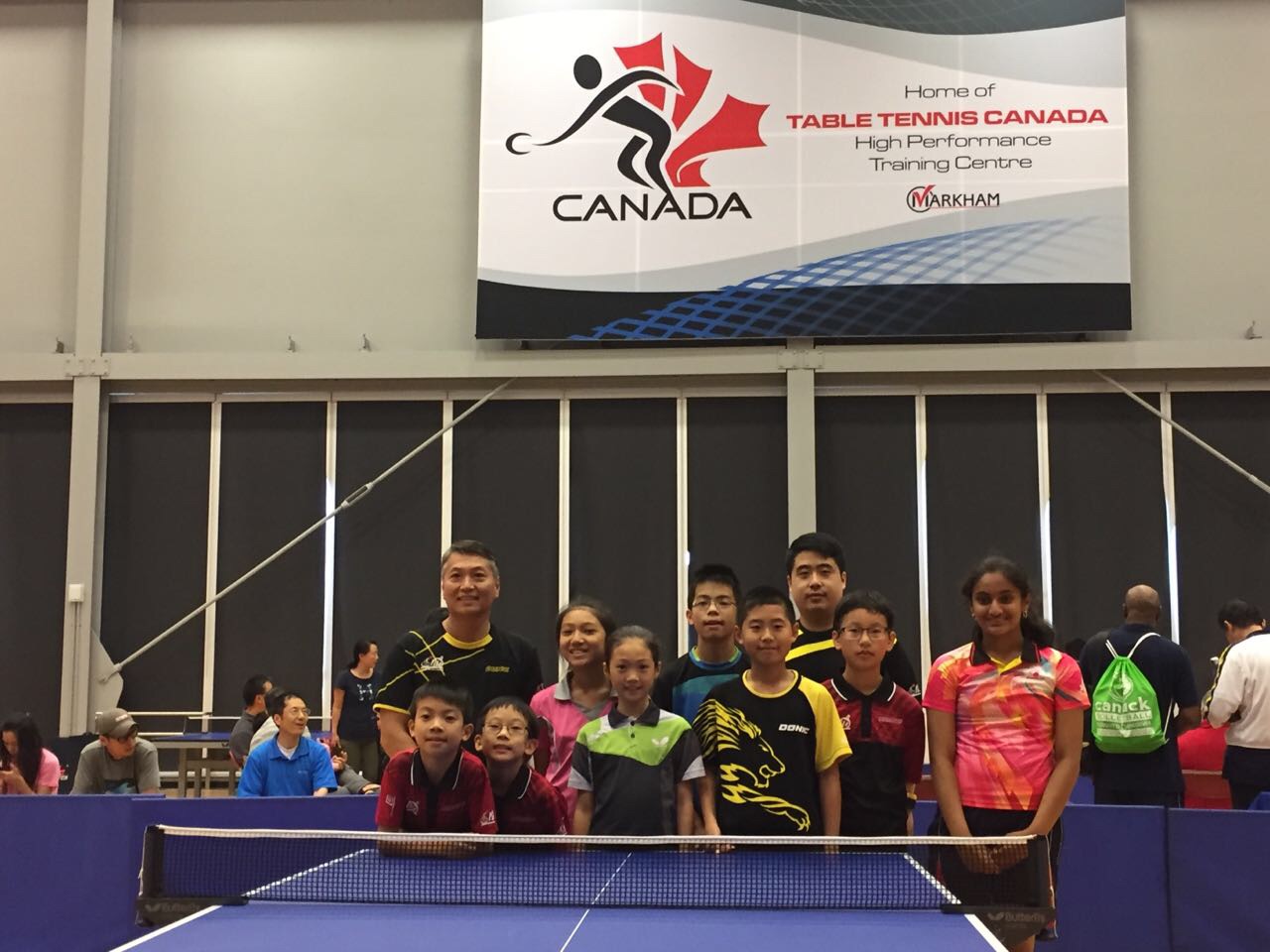 Dominating performance by Elite TTC at 2017 Ontario Championship - April, 2017

Elite TTC's team of top notch coaches and players demonstrated incredible performances during the 2017 Ontario Championship in April.

Kevin Guo and Jessie Xu displayed their extraordinary skills in dominating the U11 & U13 competition by winning Gold medals for each age group.

William Zhou won a U11 Silver, while William Shen and Angela Cui each won a Bronze in the corresponding U13 Boys & Girls division.

Not to be outdone, Frederick Zhang, who has just turned 8, and first timer Michelle Wang both won 4th place in the respective U11 Boys and Girls division. David Xu also won 4th place in the U15 Boys group.

Elite TTC athletes owned the podium of the U800 group by winning Gold (Kevin Guo), Silver (Glacier Sung) and Bronze (Hugo Quach). And finally for the U1600 group, Oliver Bhugon won Gold with Michael Ye winning the Bronze.

Congratulations to all. Stay focused, and keep up the hard work!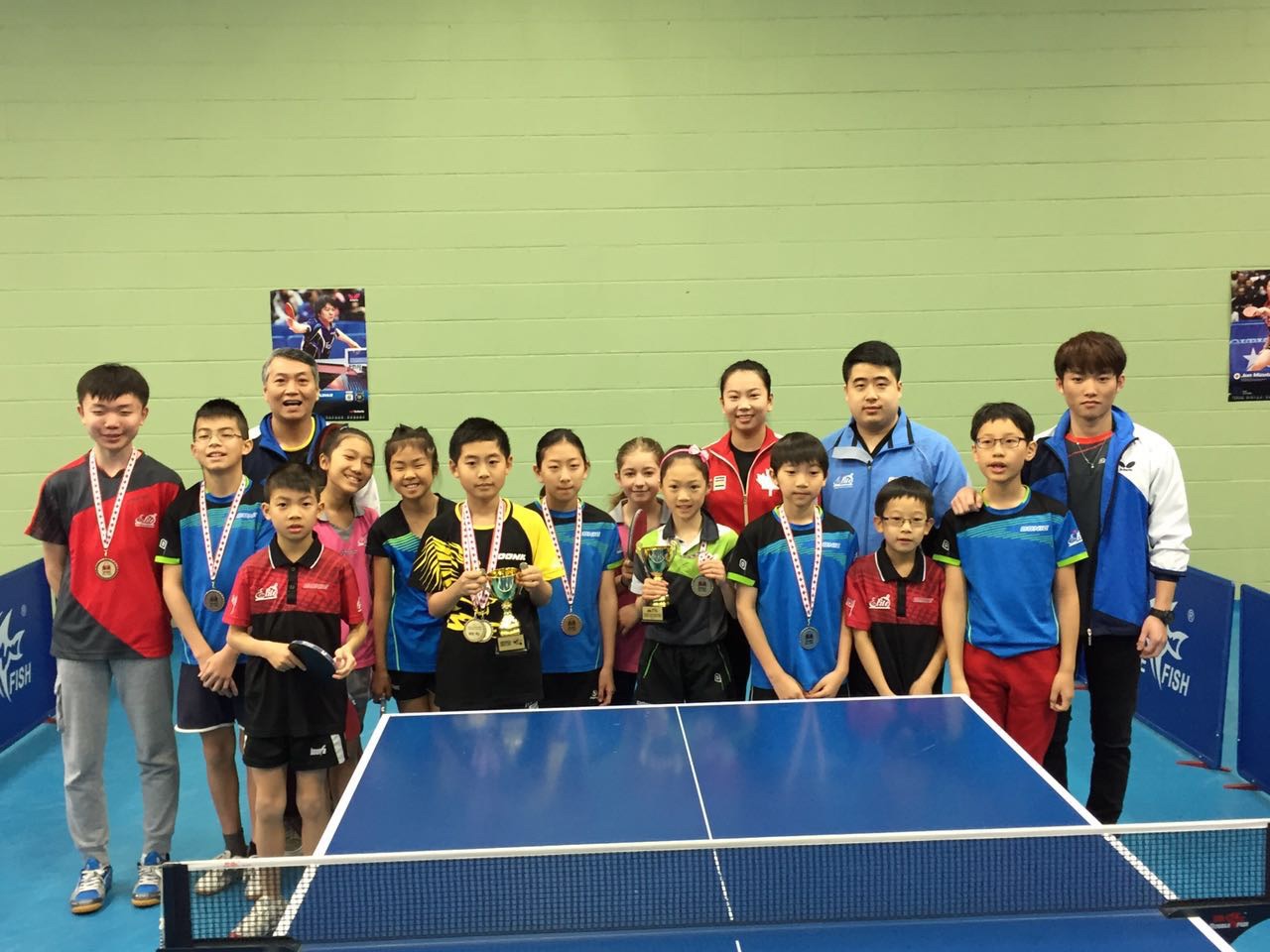 Feb 27, 2017: Honor Roll from Region of Peel

A number of Elite TTC juniors showcased their talents throughout the Peel Region high school table tennis league that ended on Feb 14th. They won a multitude of medals while representing their schools.



Gold Medal

Senior Girls Single: Yuyan Liu



Gold Medal

Senior Boys Double: Mateus Pires & Evan Knuff



Bronze Medal

Junior Girls Single: Jessica Cui



4th

Junior Boys Single: Hugo Quach

Congratulations! Your hard work and dedication have sure paid off. All of you should be very proud in bringing such honors to your school and yourself.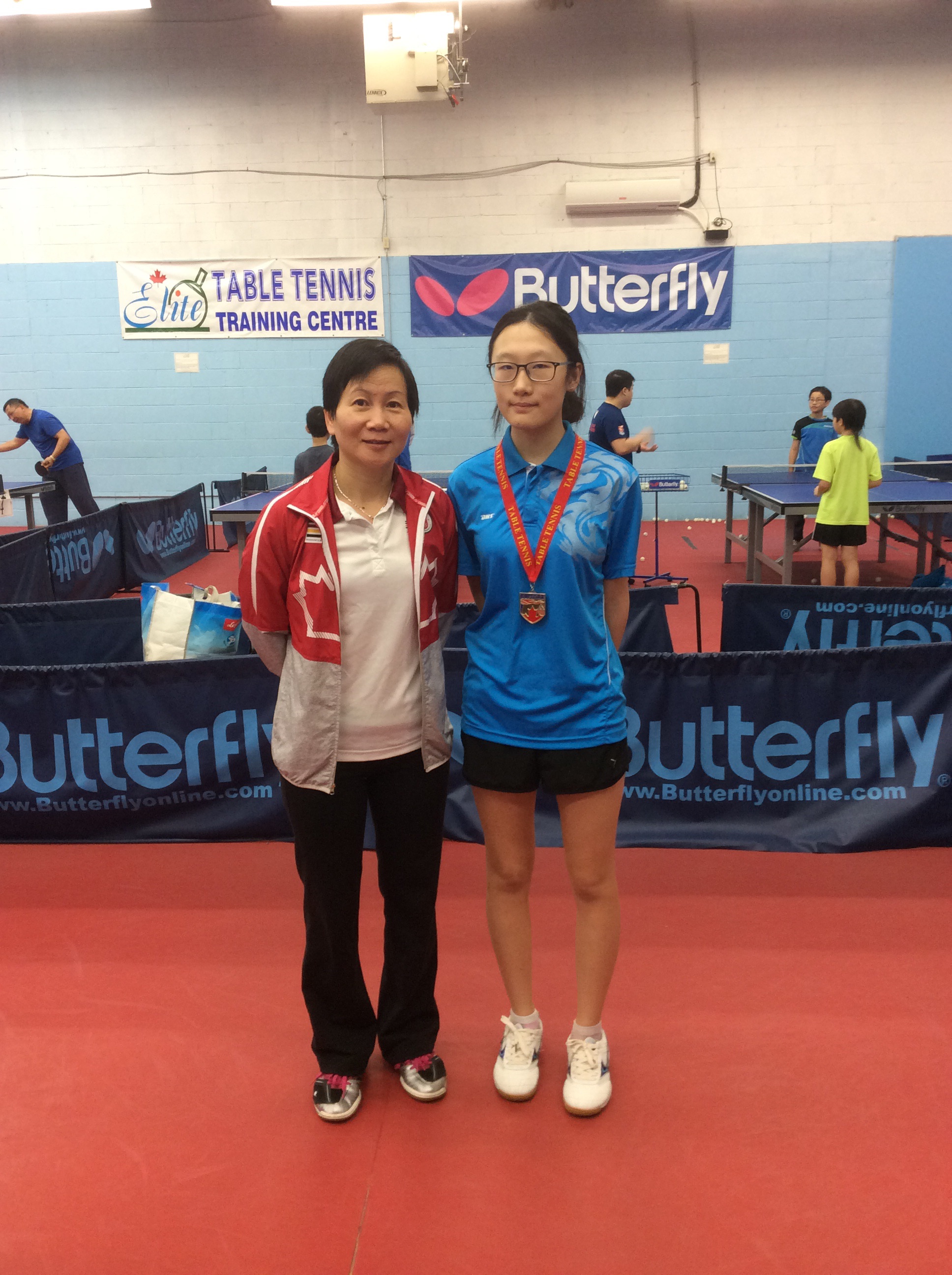 Dec 27, 2016: More Medals, another up-and-coming 7 year old

A group of Elite Juniors continued their medal quest in Quebec over the weekend of Dec 17th. Of note, Mateus Pires and Oliver Bhugon each took home 3 medals. Another 7 year old Andrew Zeng, won his first ever Silver.

Mateus Pire

Gold (801--1400) Gold (1001--1600) Gold (team category B)

Oliver Bhugon

Silver (801--1400) Bronze (1001--1600) Gold (team category B)

Andrew Zeng

(age 7) Silver (U9)

Hugo Quach

Bronze (251--500)

Kevin Guo

Gold (team category D)

Keanu Leung & Jessie Xu

Bronze (team category D) Congratulations to all the participants!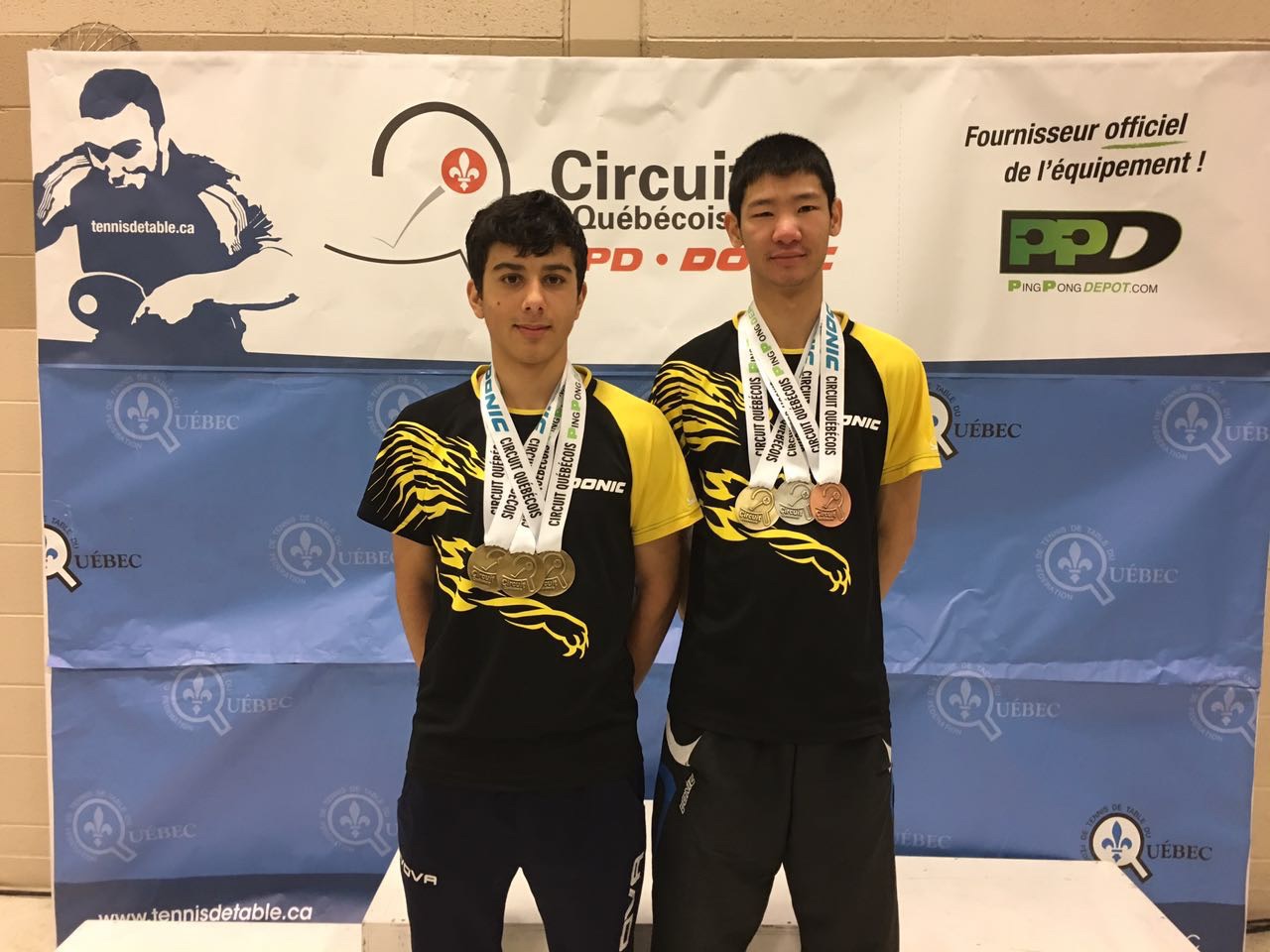 Nov 18, 2012: Congratulations to David Xu!

David won the championship of the "Circuit Quebecois No.2 Tournament" held in Laval, Quebec on Nov 18, 2012 for the U-9 category. It is a major accomplishment for David with this win. Hope there will many more to come.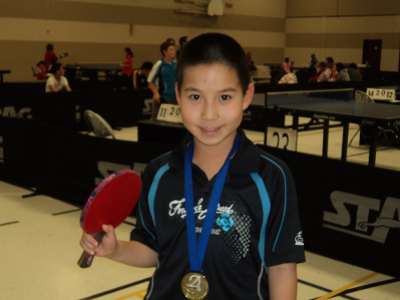 Oct 7, 2012: What a Thanksgiving!

Anqi Luo has a couple more good reasons to celebrate with her parents Coach Chen and Luo this Thanksgiving. She has just won two Bronze medals at the ITTF World Jr Circuit this past week at Markham, Ontario. One for Jr Girls Single and another for the Team event. This is the second time Anqi has won a medal in an ITTF World Jr Circuit this year. Congratulations Anqi and Happy Thanksgiving to the Luo family!



June 27, 2011:


2011 Little League Championship


The Elite TTC 2011 Little League round robin play has concluded in great success. A Championship round was held. The following is the eventual winners of this year's Little League.
First Place : Naitao Cui
Second Place: David Xu
Third Place: Eric Lai
Fourth Place: Justin Law
Congratulations to all the participants making it a very successful league play.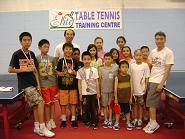 Mar 30, 2011:


Our Elite Juniors Scores Again


During last Sat's Ontario Junior Championship, our centre's elite juniors came through with flying colors in winning Gold, Silver and Bronze! Congratulations on their achievements!
Boys
Hongtao Chen: U18 champion
Max Xia: U15 silver
Jason Liu: U11 bronze
Girls
Sheree Zhang: U15 silver
U13 silver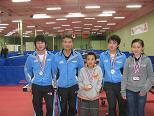 March 17, 2011:


Three Cheers For Our Elite Juniors


Elite TTC is the only Ontario club with 3 elite juniors invited to participate in the March 11-13 2011 National Team Challenge in Ottawa. Although they are only juniors, all 3 did extremely well in this senior level tournament. On the Men side, Hongtao Chen placed 5th and Max Xia placed 15th while Anqi Luo placed 4th on the Women side.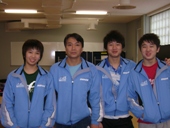 Feb 28, 2011:
Elite U2500 Mixed Double
We had a good showing and lots of competitive fun at our Mixed Double on Sat, Feb 19. The teams played quite well considering the amount of time they had to practise together.
Tournament results:
1st: Anqi Luo/Phil Hanoudi
2nd: Ellen Leung/Michael Lam 3rd:ShereeZhang/GordonChau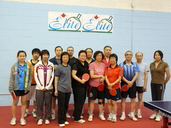 Feb. 21, 2011:
Fun, Good Health and Success!
More proof that table tennis is for all ages. A few of our Centre¡¯s seniors made some major achievements last week representing Mississauga in table tennis at the Ontario Senior Games in Haliburton. It was quite a happy and encouraging scene with so many healthy seniors participating in various events.

55+ Mixed Doubles (Gold)
Ellen Leung & Michael Lam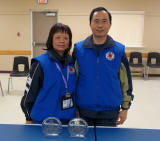 55+ Men¡¯s Double(Silver)
Sandy Chu & partner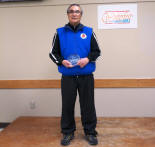 Jan 17, 2011
How Does a Club Celebrate Winning One Open Championship?
By winning another!
Elite TTC is very proud to announce that two of our elite juniors each won their respective division in last Saturday¡¯s OTTA Ontario Championship. Hongtao Chen (age 15) won the Open Men Championship; whereas Anqi Luo (age 14) won the Open Women Championship. What is even more amazing is that neither one of them lost a set during the competition, even against players many years their senior.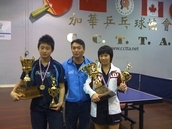 Jan 17, 2011
Friendly Competition
Who says one can¡¯t have a little fun playing competitively? More than 20 table tennis players from two clubs did just that on Sat Jan 15. The Vietnamese TT Enthusiasts and SOTW Church each put up two teams for a Friendship Tournament. Although the games were quite competitive, all participants had a wonderful time.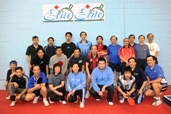 Dec 18, 2010


Elite Cadet & Junior Table Tennis Tournament


It was a highly successful and fun filled tournament not only for the participants, but for all the parents in the audience as well. The skills, intensity and excitement displayed by the youngsters were just outstanding. Well done everyone!
Tournament results:


Adv. Jr


Gold: Henry Chau
Silver: Jason Liu
Bronze: Gordon Chau
U16
Gold: Colin Wu
Silver: Charles Zhang Bronze: Jacqueline Wang


Oct. 21, 2010
Another feather added to his cap. After winning the CCTTA Open last month, our elite junior Max Xia is now a Donic sponsored athlete. A well deserved recognition for his performances resulted from his dedication and a vigorous training program.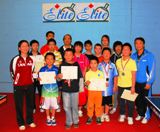 Sept. 29, 2010
Amazing achievement by our centre's elite junior Max Xia (age 14) in winning the championship at the CCTTA Open Tournament in Markham on Sept 26. Max beat out other much older and higher ranked players to become probably the youngest player ever to claim the top spot in that event. Wonderful performance Max and congratulations!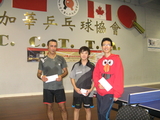 Sept. 23, 2010
Our centre's elite junior Anqi Luo was featured twice in the Mississauga News. First in the Sept 18 online sports section http://www.mississauga.com /sports/article/875436--luo-set-for-commonwealth-games and again on the front page of the sport section in this Wed's paper edition. Anqi is also a member of the national women team representing Canada at next month's Commonwealth Games in India. We wish the team lots of success.

Sept. 13, 2010
The talented duo of Anqi Luo and LiQuan Ly won a team Silver for Canada at the ITTF World Junior Circuit competition at Ecuador this week. They made headlines in advancing to the final by beating higher seeded Sweden and Ecuador teams.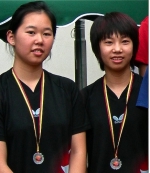 Sept. 10, 2010
Anqi Luo won a bronze medal at the Panam Cadet Championships in Ecuador earlier this week. That qualifies her as the lone Canadian to play at the 2010 ITTF Global Cadet Challenge (the de facto World Championship for juniors 15 and under). Well done Anqi, we are all very proud of your achievement!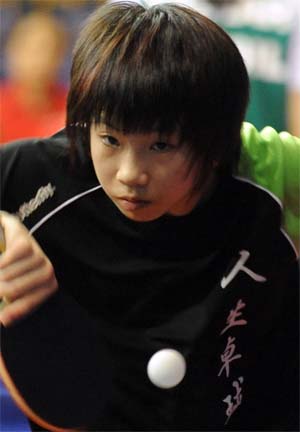 Aug. 13, 2010
Coach Chen is with Canada Cadet Team in China Training Camp (July 30- Aug 20, 2010). Our Elite players Anqi Luo and Max Xia are among this 3 boys and 3 girls team.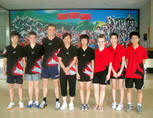 July 17, 2010
2010 Elite U-1000 Adult Ladies Round-Robin Table Tennis Tournament Championship Div. results:
1st Ellen Leung: 2nd Lan Gao ; 3rd Carol Chu. Visit Events page for full results.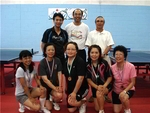 July 16, 2010
Another first for our centre's Anqi Luo and Max Xia. They each received the Most Improved Junior Player Of The Year award at the 2010 Canadian Championships being held at Calgary, Alberta this week. Anqi also won the gold medal for U18 Girls Single Event. Congratulations to both Anqi and Max!

July 5, 2010
During last week's N. American Championship at Grand Rapids, Michigan, Elite TTC's Anqi Luo achieved the no. 5 spot in the Cadet Singles category. Way to go Anqi!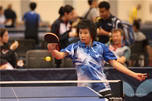 June 9, 2010
2010 Elite Senior Double Round Robin Tournament Championship Div. results:
1st Antonio Coimbra; 2nd Dennis Crawford; 3rd Francis Fang
Visit Events page for full results.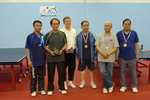 May 17, 2010
Our Centre's elite juniors achieved great success in the Ontario Championships (May 15-16).
Anqi Luo: U18 Girls Single; Gold: Max Xia:U15 Boys Single Silver ;Sheree Zhang:U13 Girls Single Silver;Jason Liu: U11 Boys Bronze.
Congratulation to all of them.
May 9, 2010
In the Junior National Team Challenge held in Richmond, BC (May 8-9), Anqi Luo won Gold medal in the Junior 18 girls category. Congratulation to Anqi on her new achievement!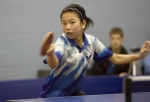 May 3, 2010
We are very excited to announce that during May 8 – 17, our centre will be hosting a training camp for the Canadian Women Team. This training camp is conducted by our centre's Coach Chen, also coach of the Canadian Women Team, to prepare for the
May 23 – 30 World Team Championships at Moscow.


April 22, 2010
Elite TTC has been selected by Table Tennis Canada into its Club Excellence program. The two organizations will work in
co-operation to build and develop this program. Please see further details in our About Us section.
April 3, 2010
We have started to accept membership registration for the year May 1, 2010 to April 30, 2011. Registration form is available for download from the Registration page under the Membership menu tab.The first 60 early bird registrants (VIP/Regular members) will receive a free Elite TTC T-shirt by TSP (a $20 value).
March 14, 2010
Another major achievement by Anqi Luo in winning a Silver medal for women at this year's Senior National Team Challenge that took place in Montreal.
March 2010
During the Ontario Winter Games that ended March 7, some of our centre's elite juniors achieved outstanding results.
Anqi Luo:U14 Girls Single Gold; Sheree Zhang:U14 Girls Single Bronze; Max Xia:U14 Boys Single Gold
Feb. 2010
Canadian Women National Team Coach-Junya Chen will be the head coach in our training centre.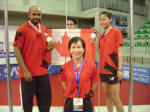 Jan 2010
Anqi Luo becomes the No. 1 Ranking of U18 Canadian girls; she is also the highest world ranking of the Canadian junior girls. Sponsorship by Butterfly this year again. Congratulations!